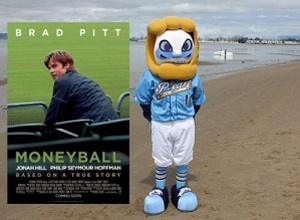 The movie Moneyball opens nationwide next Friday September 23rd. The movie is a true story of Oakland A's general manager Billy Beane's (Played in the movie by Brad Pitt) successful attempt to put together a baseball club on a budget by employing computer-generated analysis to draft his players.

There is only one theatre in America to see the movie and the Neptune Beach Pearl Official Mascot GEM. Come join GEM and fellow Neptune Beach Pearl fans at the Alameda Theatre & Cineplex located at 2311 Central Ave in Alameda on opening night September 23rd.

GEM will be on hand greeting guests from around 6pm up until showtime. The theatre will release the exact show times this upcoming Tuesday, but GEM and Pearl Front Office Staff and Supporters will be attending the showing that will begin sometime between 7-7:30 PM. Please plan accordingly or purchase your tickets early on the Alameda Theatre & Cineplex website as a large crowd is expected.

www.alamedatheatres.com

What more can you ask for on a Friday Night? GEM, BRAD PITT & BASEBALL!!!

We hope to see you there!