Neptune Beach Travel Ball Baseball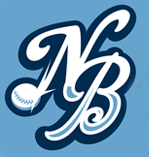 2018 High School Tryout Information: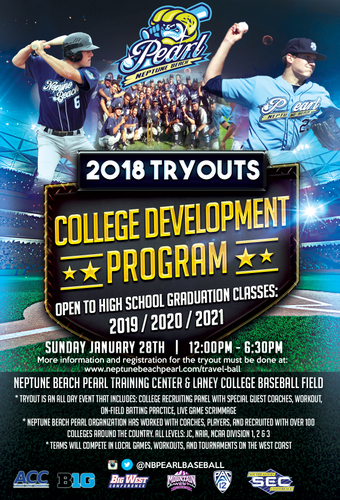 The Neptune Beach Pearl College Development Program will feature multiple teams in 2018. These teams will compete in local games and tournaments as well as elite showcase tournaments along the West Coast. The Neptune Beach Pearl College Development program is designed to provide a college like atmosphere and developmental program for players to continue to develop their skills towards the next level and receive necessary exposure to current College Coaches and Players. The Neptune Beach Pearl Summer Collegiate Baseball Program was established in 2011 and participates in the nationally known California Collegiate League. Through the Collegiate Team our coaches and organization have worked in recuiting with hundreds of college coaches and universities of all levels around the country. (NCAA D1, D2, D3, NAIA, JC) The Neptune Beach organization is dedicated to developing players to compete at the collegiate and professional levels through our teams, as well as act as a facilitator during the recruiting process.
Larks Showcase Team: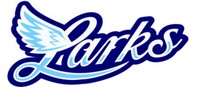 ​​​- The Larks Showcase team is designed for primarily Sophmores and Juniors and Varsity Level Freshman
- The schedule features local games designed for players to develop their skills and tournaments against elite competition to receive exposure to College Coaches through well recognized Showcase tournaments such as Fire Cracker Classic, Under Armour Showcase Events, Arizona Fall Classic and Local University Team showcase camps.
​Neptune Beach Travel Teams: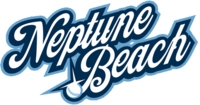 ​The Neptune Beach Travel Ball teams are designed to continue to develop players overall baseball skills through weekly workouts, local games, tournaments and destination tournament.
Tryout Info/Schedule:
Tryouts will be held on Sunday January 28th at Neptune Beach Pearl Batting Cages & Laney College Baseball Field. Players should bring hat, glove, bat, helmet, turf shoes, and baseball pants and should follow the schedule below.
The day is designed to be part tryout, part showcase, and part college recruiting information meeting. Not only will teams be selected based off this tryout but the day will double for perspective Bay Area families to learn about the Neptune Beach Baseball Organization as well as basic information pertaining to the College Recruitment Process.
Neptune Beach Pearl Training Facility
2243 South Shore Center, Alameda CA 94501
11:45am-12:00pm: Player Check In
12:00pm- 1:15pm
Workout and Batting Practice.
1:15pm-2:15pm
Lunch
Training Facility Located at Alameda's South Center. Many food options and food trucks open on Saturday.
​Laney College Baseball Field
900 Fallon Street, Oakland CA 94607
2:30pm-3:30pm
College Recruiting Meeting. Run by Neptune Beach Pearl Head Coach Brant Cummings & Other Guest Coaches
3:30pm-4:30pm:
On Field Batting Practice at Laney College
4:30pm-6:30pm:
Scrimmage
Pitchers will only throw one inning
Please follow the link below and PAY THE $25 REGISTRATION FEE to reserve your spot at tryouts, and covers tryout expenses.
https://squareup.com/store/neptunebeachpearl
Summer & Fall Seasons Travel & Local Ball have in the past and may include in 2018 events such as:
- Weekday Workouts/ Batting Practice
​- Local Weekday Games
​- Local Bay Area Tournaments
- Firecracker Classic Tournament Southern California
- Santa Clara University & University of San Francisco Team Showcase Tournaments
- Perfect Game Showcase Tournament
- Arizona Fall Classic
- Under Amour Upperclass & Underclass Showcase Tournament
- Pregame Interaction and workout with the Neptune Beach Pearl Collegiate Team
​